Nagel Building & Carpentry - Builder Blackwood
Builder, Carpentry, Home Improvements, Home Renovators, Construction Contractor Blackwood | Stirling | Unley | Flagstaff Hill | Edwardstown
0421 75# ###

0421 75# ###

27 Brighton Parade
Blackwood SA 5051

Map

Monday to Friday: 8.30am-5.30pm
Builder Blackwood
Home Renovators Belair
About Us
Nagel Building & Carpentry – Builder Blackwood | Home Improvements Unley
Nagel Building & Carpentry is a leading name in highly professional and reliable construction, carpentry, home improvements and renovation services.
Builder Blackwood
Only a professional equipped with knowledge, experience, a keen eye for detail, innovative ideas and good implementation techniques can be deemed eligible for managing construction and renovation projects efficiently and successfully.
As a member of the Master Builders Association and the Housing Industry Association, Nagel Building & Carpentry meets every criteria of excellence, and ensures 100% client satisfaction with every project.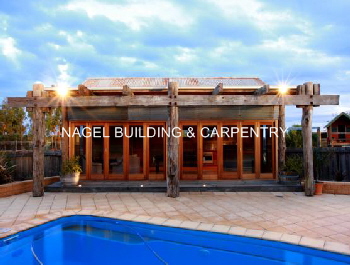 Carpentry Flagstaff Hill
Nagel Building & Carpentry has been successfully running its operations for the past six years, and has managed to establish a clientele that trusts their services without a second's worth of hesitation.
Located in Blackwood, the company caters to the building and carpentry needs of clients from various locations in Adelaide's south.
The professionals at Nagel Building & Carpentry have 24 years worth of experience, and the expertise to take on and successfully complete just about any project.
Construction Contractor Stirling
Nagel Building & Carpentry is home to all construction, renovation and home improvement solutions which are offered at highly competitive rates.
The many areas of expertise at Nagel Building & Carpentry include:
Building & Carpentry

Home Improvement

Renovations, Additions & Extensions

Building Construction

Professional Carpenters & Contractors
Home Renovators Edwardstown
No matter how big or small your construction, renovation or carpentry project may be, simply call us on 0421 75# ### and allow the building experts to take care of it in the most professional and efficient manner.
You can also visit the official website of the company for a comprehensive insight into all the services offered, online quotes and ideas, as well as pictures of their previous work.
---
Recommended Businesses
---
View similar businesses near: Blackwood SA
Payment Types Accepted
---
Products
Handyman, Carpentry Services, Property Maintenance, Home Repairs, Bifold Doors, Yard Maintenance, Building Maintenance, Home Renovations, Painting, Fencing, Home Renovators, Staircase, New Homes, Alterations, Decks, Pergolas, Tiling, Alfresco, Window Replacement, Painting, Bathroom & Kitchen Renovations
---
Services
Builder Blackwood, Stirling, Unley, Edwardstown, Flagstaff Hill, Aberfoyle Park, Mt Lofty, Torrens Park, Bridgewater, Colonel Light Gardens, Cumberland Park, Leawood Gardens, Mount Osmond, Parkside, Fullarton, Daw Park, Mitchell Park, Glengowrie, Somerton Park, Glandore
---
Certifications
Member of the Housing Industry Association
Member of the Master Builders Association
---
Categories
Builders Building Maintenance Services Contractors - Construction Carpenters & Joiners Home Improvements & Repairs
---
---
There are no reviews for this business
Barry Mayo on 22nd Sep 2020

Deep on 17th Jun 2020

Steve Darwin on 9th Jan 2020

Anita U on 21st Nov 2019

alida bortignon on 10th May 2019

john mackie on 29th Jun 2018

john mackie on 13th May 2018

N May on 23rd Mar 2017

Marie on 24th Feb 2017

Frances and John Sebesta on 16th Feb 2017

Cindy Winston on 16th Jun 2016

Kylie Healy on 15th Jun 2016

james weatherly on 8th Apr 2016

Nick O'Brien on 31st Aug 2015

Mary Donnelly on 12th Mar 2015

Matthew Charles on 11th Jul 2014

Con and Erin Vasiliou on 13th Mar 2014

Narelle and Mark Macaulay on 19th Feb 2014

Lans Jefferson on 22nd Jan 2014

Linda Matuska on 22nd Oct 2013

Leanne on 11th Sep 2013

Mary J on 31st Aug 2013

Jamie S on 31st Aug 2013

Brian Turner on 25th Jul 2013