Premium
The Pond Professor - Pond Cleaning Toorak
Pond Cleaning & Maintenance, Fountains & Waterfalls, Filtration Systems, Water Pump Installation, Outdoor Fountain Design & Construction Toorak | South Yarra | Brighton | Camberwell | Doncaster | Hawthorn | Melbourne
0429 96# ###

0429 96# ###

Fountains & Waterfalls
Mont Albert North VIC 3129

Map

Monday to Sunday Pond Cleaning & Maintenance Toorak Fountains & Waterfalls South Yarra
About Us
The Pond Professor – Pond Cleaning & Maintenance Toorak
The Pond Professor offers professional cleaning and maintenance services to clients throughout Melbourne. Call today on 0429 96# ###!
Fountains & Waterfalls South Yarra
Do you have a gorgeous pond in your house but a work schedule so hectic and exhausting that it does not allow you to maintain or clean it regularly?
Are you looking for a reliable, efficient professional to clean and maintain your pond to make it look good as new?
The Pond Professor guarantees impeccable cleaning to restore the lost grandeur and beauty of your pond to make it a gleaming centre of attention once more!
Filtration Systems Brighton
With over two decades of experience, the Pond Professor has managed to win the hearts of countless clients with their outstanding services.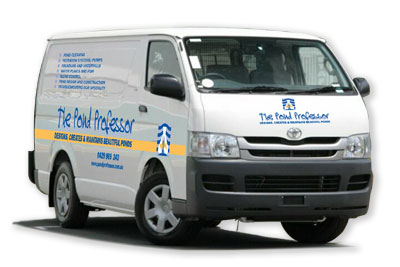 With a Graduate Diploma in Aqua Culture, the owner is well versed in all aspects of pond maintenance and requirements, so you can rest assured that you will receive an impeccable service every time.
They have been operating for over 12 years, providing professional services to clients from areas including Toorak, South Yarra, Brighton, Camberwell, Melbourne and Caulfield.
Water Pump Installation Camberwell
The Pond Professor is now known as the one stop solution for all commercial and residential clients maintenance needs.
The company specializes in all aspects of:
Open seven days a week, they offer their remarkable cleaning and maintenance services at some of the most affordable rates in town.
Equipped with detailed knowledge regarding all aspects of pond maintenance, the company guarantees efficient and effective work on every project.
Outdoor Fountain Design & Construction Doncaster
So if you have a pond that is in dire need of cleaning and restoration, simply call on 0429 96# ### to book an appointment with the experts!
Payment Types Accepted
---
Products
Pond Cleaning & Maintenance, Filtration Systems, Fountains & Waterfalls, Water Pump Installation, Outdoor Fountain Design & Construction, Water Testing, Design and Construction, Aquatic Plants, Supply and Installation of Pumps, Leaks and Maintenance
---
Services
Pond Cleaning & Maintenance Toorak, South Yarra, Brighton, Camberwell, Caulfield, Doncaster, Hawthorn, Melbourne, Box Hill, Blackburn, Mitcham, Templestowe, Malvern, Surrey Hills
---
Certifications
Graduate Diploma in Aqua Culture
---
Categories
Fountains & Sundials Pumping Contractors Water Tanks & Equipment Pumps Gardening & Landscape Contractors
---
---
There are no reviews for this business
"fantastic website with lots of great products "

"The pool/spa/landscaping package that Terry came up with for our home was honestly well beyond what we thought we could achieve with the budget we had. Our yard looks a million dollars and we spend way more time outdoors than we ever did. The only losers in the equation are our kids because my wife and I use or new pool and spa more than they do."
TICKA on 26th Aug 2008

Raver1 on 3rd Oct 2007